Lvl 1, 160 Roma Street, Brisbane  QLD 4000

Phone: 07 3211 8999
Email: romast@shel.edu.au

Monday to Friday 6.30am to 6.30pm
Brisbane City's Smallest Child Care with the Biggest Heart
A child's relationship with their carers shape how they see the world,
and can affect all areas of their development.
At Story House Roma Street, we understand the importance of child-educator relationships. So we have capped our enrolments at no more than 40 children. That's less than half the size of other child care centres in the CBD.
Our small size allows us to build strong personal connections. We can take the time to get to know you, and develop positive, caring relationships between our educators and your child.
Quality early childhood education and child care provides the foundation for learning for life.
Let your child's learning story begin with us
Tailored Learning and Curriculum for each age group
Nursery
We partner with you to provide a safe, quality, family-centred learning environment where every child is respected and nurtured. We continually develop our skills and explore new ways to enrich your child's early learning experience.
Junior Kindy
Indoor and outdoor play based experiences are an integral part of our program. Educators plan a diverse range of experiences to create opportunities for your child in both structured and spontaneous play.
Kindergarten
The Kindergarten curriculum continues to emphasise play based learning, however offers additional intentional learning times where the focus is on literacy and numeracy, socialisation, self-regulation and independence.
Meet Jessica our Service manager
Welcome to Story House Early Learning Roma Street. My name is Jessica Pique and I am very excited to be a part of the Story House family.
I have been in the Early Childhood industry for over 6 years and I believe I have found my true passion. I am proud to say that I love the industry that I work in and believe that my passion shines through and reflects through my work ethic. My journey started as an assistant educator and through hard work and dedication I have worked my way through lead educator roles, educational leader and 2IC. My passion and my strengths lie mentoring and leading teams around educational programs and practice. I have provided training to educators across our QLD, Victoria and NSW services in providing quality programs and environments for children.
I agree and believe in the statement that "The earliest years of a child's development forms the foundations of their understanding of the world" and I feel privileged that as a Service Manager I get to be a part of this experience. I recognise that all children should be treated with equality, and their cultural and linguistic diversity should be embraced and acknowledged. This helps emphasise on creating meaningful and respectful partnerships with not only the children and families but also with the greater community.
I look forward to growing alongside the children and families of Roma Street and to seeing how we can help you with your childcare needs.
Latest News from Story House Roma Street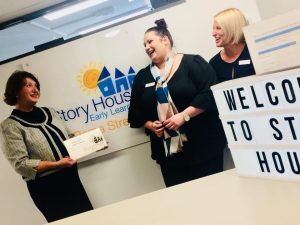 Our service was honoured to have Councillor Vicki Howard officially open our beautiful Brisbane City service.
Story House Early Learning is proud to announce the official opening of our brand new child care centre in the heart of Brisbane City.
Brand new child care centre opening in the heart of Brisbane City.
Take a look at our Centre
What our families are saying...
Absolutely love the Centre and all the educators. You guys look after my children with so much of care and understanding.
Best daycare centre ever. Period!!! Tacita
Very friendly and welcoming staffs. The facilities are beautiful and in a convenient location. My son has learnt so much and is developing so well already. I love being sent photos of my son's day and group activities. I highly recommend their service and can not praise them enough. THANKYOU for everything you all do.  Ajinta
Amazing staff who are friendly and make you feel welcome. Central location. Great procedures and new facilities.
We have no issues leaving our 5 month old in the hands of this childcare and their wonderful staff.  Elle
The staff at Story House are amazing. They go above and beyond to not only provide exceptional care to the children who go there, but to also make parents feel at ease with putting their children into day care. The staff also make sure you are always up to date and well informed about your little ones' day/what's happening at the service. We cannot recommend Story House enough.  Ryan and Temika

We are situated in the heart of Brisbane CBD, on the corner of Roma Street and George Street, just around the corner from the
Brisbane City Courts Precinct, and across the road from the Roma Street Transit Centre and train station.
Level 1, 160 Roma St, Brisbane City  QLD 4000  |  07 3211 8999  |   romast@shel.edu.au
Open  Monday to Friday 6.30am to 6.30pm