The leadership team at Story House Early Learning is a team committed to providing a higher standard of early childhood education.
With a healthy mix of early childhood professionals –who've spent years on the ground working with children– and professionals across other industries, we listen to a variety of voices to develop the very best educational programs. Our leadership team is committed to continuously improving the standard of education across our centres.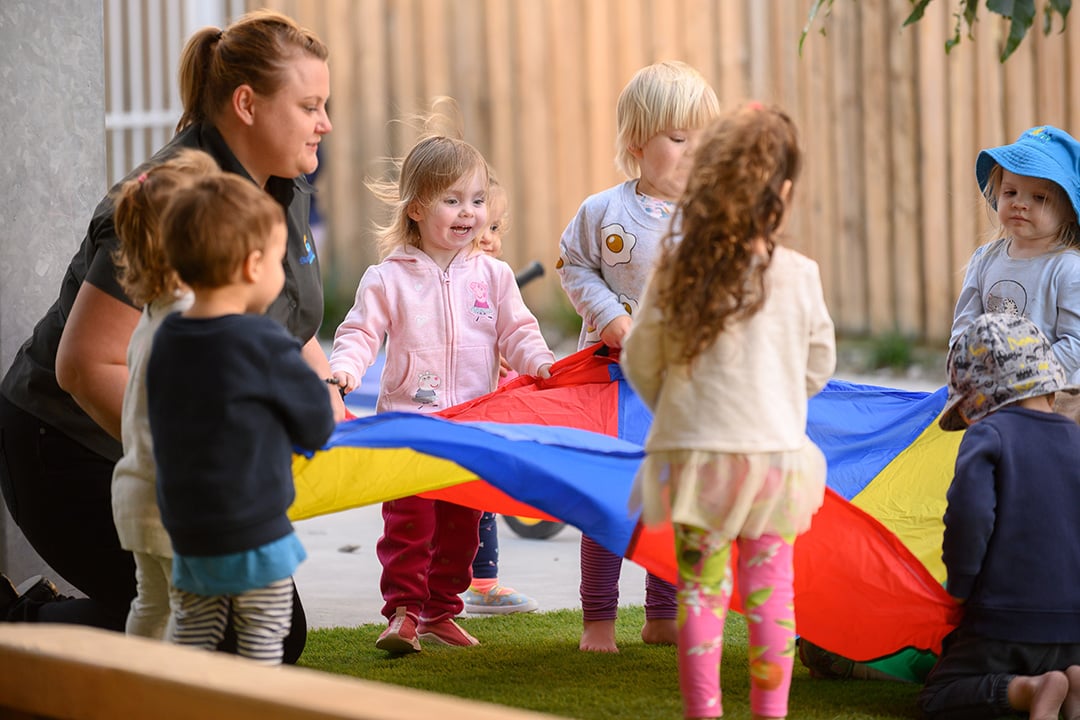 The team caring for our Story House family.
Paul Cochrane

Chief Executive Officer

Paul Cochrane

Chief Executive Officer

Paul joined Story House Early Learning as the CEO in 2019 with more than 25 years of executive and financial management experience in public corporations and private businesses in a variety of sectors including education, property development, aged care, and finance.

Grounded in the values of Integrity, Connectedness, Respect, Commitment, Safety, Growth & Innovation, Paul leads a dynamic and passionate team who are committed to delivering the highest quality care and education for children who join the Story House family. He leads with a strong vision for the future and brings a broad range of experience and versatility to achieve the growth plans for Story House.

Prior to joining Story House, Paul was the Chief Financial Officer at Affinity Education Group Limited operating over 150 childcare services nationally. He was also CFO for Devine Limited, Ariadne Limited, and Eureka Group Holdings Limited.

Paul holds a Bachelor of Commerce and is a Fellow Chartered Accountant Australia & New Zealand.

Tony Finn

Chief Financial Officer

Tony Finn

Chief Financial Officer

Tony joined Story House Early Learning in 2018 as the Chief Financial Officer with over 20 years of experience in senior financial roles across several sectors including education, financial services, mining, and insurance. Tony is passionate about implementing new systems and procedures that help to improve the efficiency and effectiveness of how the support office can help our educators provide exceptional learning and development opportunities for the Story House children.

Tony came to Story House from Affinity Education Group where he was a Financial Controller overseeing the settlement and financial integration of over 40 childcare services.

Prior to this, Tony spent five years based in London working for HSBC and its subsidiaries where he was responsible for the rollout of finance systems to intermediary holdings entities across the group.

Tony holds a Bachelor of Accounting and Finance and is a Certified Practicing Accountant (CPA).

Craig Alchin

Chief Operating Officer

Craig Alchin

Chief Operating Officer

Craig Alchin is an accomplished business leader with extensive experience in a range of sectors including Childcare and retail organisations. He comes to Story House Early Learning having held the position of Queensland State Manager at Affinity Education Group Limited operating 77 Queensland childcare services of a total portfolio of approximately 150 services. Prior to this, Craig held a variety of positions over his 17 years with The Harvey Norman Group including Rebel Sport State and National Operations Manager, as well as controlling multiple franchises, and sitting on several Harvey Norman national committees.

Craig joins Story House to focus on delivering quality emotional, educational, and inspirational opportunities for children and families. His strong belief in the critical importance of children's formative years, combined with a passion to build a diverse and knowledgeable team of educators and senior managers, will be critical to Story House continuing to deliver exceptional learning and development opportunities for our children and families.

Kate Ludwig

Head of People and Culture

Kate Ludwig

Head of People and Culture

Kate is a high-energy and people-focused Human Resource (HR) leader with a focus on employee development, employee engagement and technological transformation. Kate has extensive experience in the early childhood sector, having held progressive roles in the functions of HR throughout her career. Most recently, Kate worked in the role of Employee Relations Manager for Affinity Education Group.

As a mother herself, Kate comes to Story House with an understanding of the important role our Educators play in the development of our children.

Kate's focus is to ensure the People & Culture team, partner with our services to ensure every Educators 'Story House Story' is as rewarding for them as their work is for our children.

Kate holds a Bachelor of Psychological Science, Master of Human Resource Management and Bachelor of Laws.

Nicole Spillman

National Operations Manager

Nicole Spillman

National Operations Manager

Nicole is a celebrated leader in the Early Childhood sector, having worked in the industry for the last 27 years.

Nicole comes to Story House with extensive experience in Operations Management with ASX listed national child care provider, G8 Education, B4Kids, and ABC Developmental Learning Centres, where she held roles of Area Manager and Corporate Care Manager, liaising specifically with Telco's, Westpac, ANZ and Holmesglen TAFE supporting their corporate employee benefits program, and with other smaller providers. Most recently, Nicole held the role of the Operations Excellence Manager at G8 Education, where she developed systems to improve practice, deliver strategic outcomes and review systems and products to integrate into services.

As an Early Childhood Teacher herself, her passion is about empowering children and educators to be the best they can be, seeking excellence in early education and teaching.

Nicole holds a Bachelor of Teaching (ECE), Bachelor of Education (Inservice), Adv Diploma in Leadership and Business Management, and a Certificate 4 in Training and Assessment.

Dave Olsen

Financial Controller

Dave Olsen

Financial Controller

David is the Financial Controller for Story House Early Learning. He does a variety of important jobs for Story House and oversees the Management Reporting, Accounts Payable and Payroll processes. He has a wealth of experience and knowledge that he utilises for all aspects of his position. David holds over 25 years of experience in senior roles across a variety of Finance and IT functions. He graduated from the University of Queensland with a Bachelor of Commerce and has been a Chartered Accountant since 1990.

His favourite aspect of working in early childhood learning is the excitement that comes from being part of an organisation that focuses on developing children to their full potential. Being part of the Finance Team means that David is able to see just how much the team prides themselves on providing excellent support to the operations by way of accurate and timely financial information, payment of suppliers and employees.

Outside of work, David's party trick involves being able to crack a whip. You'll also find him training for an upcoming triathlon and improving his gaming skills on the PlayStation.

Suzie Wood

Head of Early Learning

Suzie Wood

Head of Early Learning

As Story House's Head of Early Learning, Suzie's role encompasses a wide range of jobs. She oversees the the strategic direction of Story House Early Learning's early childhood education and care programs, and compliance requirements across all services. The key focus of her role is on strengthening the capability of every service leader, educator and teacher to achieve outstanding programs and practices through targeted professional learning and support. 

She brings over 35 years of experience and has an extensive list of qualifications including Mothercraft Nurse Certificate, Advanced Diploma in Community Sector Management (Children Services), a Bachelor of Education, Masters of Education, and a Certificate IV in Training and Assessment.

Over the many years that Suzie has been involved in the early childhood sector, she consistently loves seeing new things through children's eyes. There is an awe and wonder that only children can bring to an early childhood environment which is a privilege to witness. She also enjoys seeing the impact that early childhood practitioners have on the development and growth of each child through quality interactions and contemporary learning programs.

In social settings, Suzie prides herself on being a consistent winner in a game that involves ripping the mintie paper to create the longest length. In her spare time, Suzie can be round reading a good book, cheering on the Firebirds and the Diamonds in their latest netball match and reliving her past life of being a swimmer and waterpolo player by swimming laps.

Viki Rozsas

National Wellbeing and Inclusion Advisor

Sabina Klepp

Pedagogical Practice Partner

Kelly Murphy

Talent Acquisition Manager

Kelly Murphy

Talent Acquisition Manager

As the Talent Acquisition Manager for Story House Early Learning, Kelly's role is focused on ensuring that they are facilitating effective attraction strategies and onboarding talented and like-minded individuals who have values that align with the Story House values. This will lead to an effective, cohesive team that works well together to achieve great learning outcomes for children entrusted to the centres.

Kelly possesses over ten years of experience in the role of a Talent Acquisition Professional, providing value-add partnering to the business on all recruitment matters. In her role as Talent Acquisition Manager, she has the chance to be a part of something special. She has been able to see first-hand the good start that early childhood education provides each child, not only in education, but also in their lives. Kelly also values knowing that she is constantly bringing people together and making a real difference to someone's life. She's able to see employees go from strength to strength in their careers.

Kelly can make a great cocktail on nights off and on her weekends and holidays, you'll find her outside in her garden, playing sports with her children and renovating her home.

Daniel Blake

Facilities Manager

Daniel Blake

Facilities Manager

At Story House Early Learning, Daniel is the National Facilities Manager. This title means that he is responsible for ensuring that all indoor and outdoor physical environments are compliant, maintained and fit for purpose for all the staff and children in their care. He has accumulated 13 years of experience working as a Facilities Manager and the last seven years have been working within the childcare sector. Prior to this, he has worked as a Facilities Manager for Leighton Contractors, Spdexo, and Spotless Group in roles that oversaw compliance and safety, construction, catering and accommodation services.

Daniel's favourite part about working within the early childhood learning sector is that the team at Story House Early Learning is actively and consistently making a positive difference to the development of the young children in their services. Getting to see children play and explore the newly renovated playgrounds and gardens at the different locations within Story House is incredibly rewarding for Daniel.

His fun party trick is that he can bend his forearm so that his elbow moves back and forth in the opposite direction. In Daniel's spare time, he can be found reading the latest and greatest non-fiction book, pottering around in the garden and cooking exquisite meals for his family and friends.

Nicole Kilpatrick

Head of Customer Experience

Nicole Kilpatrick

Head of Customer Experience

Story House Early Learning is lucky to have Nicole working for the company as their Brand Manager. In this position, she manages the Story House brand across all functions of the business, such as brand strategy, promotion and creative. Nicole will provide brand reviews for all marketing content and goes above and beyond to ensure that it is in line with the overall brand positioning and voice of Story House. She has a wealth of experience and has been working in the childcare industry for nearly 30 years, with ten years specifically focusing on the marketing and brand recognition of childcare services.

As part of working for Story House, Nicole loves knowing that in some small part, she can make a difference in the life of a child and is helping contributing to ensuring that children can experience all of the great wonders that early learning has to offer. In regards to her workplace, she enjoys seeing others happy and loving the environments that they work in.

Nicole can perform a few card tricks and outside of her job, you'll find her watching her kids play sport, playing card games and building Lego.

Fay Martin

Payroll Manager

Fay Martin

Payroll Manager

Fay is a valued member of Story House Early Learning's team in her role of Payroll Manager.

Fay brings over 25 years of payroll experience to her role as the Payroll Manager for Story House Early Learning. She has worked in payroll in a variety of industries, such as mining, construction, and retail.

She is passionate about payroll and completed her Diploma of Payroll Management in 2017. She loves making people happy by paying them correctly, whilst ensuring compliance, and keeping up to date with the ever-changing legislation affecting payroll.

After looking after a payroll team of 10 for Hungry Jacks, paying 16,000 employees weekly, Fay moved from Perth to Brisbane in 2017 for a role with an international jeweller. Then in 2020 started with the Story House team. She's enjoying working in the Childcare industry, and appreciates the shared value of Integrity, working within a team of like-minded people who are trustworthy, respectful, and helpful, but can also have a laugh!

On weekends, Fay loves going on group motorbike rides, or country drives exploring the beautiful hinterland regions and beaches of Queensland. She also enjoys crocheting, jigsaws and planning her next travel adventure.

Kelly Patterson

Executive Assistant

Kelly Patterson

Executive Assistant

Kelly is a valued member of Story House Early Learning's team in her role of Executive Assistant. In her role, she provides high-level support to the CEO and the Executive team and assists with the writing and distribution of internal and external corporate communications. Kelly holds a Bachelor of Early Childhood Education and has 20 years of experience in Business Administration in both public and private sectors across Australia and Canada.

Working in the childhood sector allows Kelly the rare opportunity to know how much of a difference they are making in the lives of the children that are placed in their care. At Story House, Kelly and the team are committed to laying important foundations for how children view the world and themselves. She also enjoys knowing that in her job, she is making a valuable contribution and is assisting in making people's lives a little easier.

When she's not at work, you'll find Kelly rewatching Friends, to the point where she is now capable of reciting almost every episode. She also loves home decorating, singing songs at karaoke and spending quality time with her family.
Let their learning story start with us.
We have centres across Australia