Being out in the fresh air is a lot of fun for both children and adults alike. Along with the enjoyment factor, there are many additional benefits of children playing outside.
In today's article, we take a look at some of the benefits of outdoor play, along with some ideas for how to get your children enjoying outside spaces.
Children can gain independence from outdoor play. Smaller children should always be supervised while outdoors, but as they grow older they can start to be given more freedom and autonomy. Being outdoors gives children an opportunity to explore new things and to test their boundaries and limits in a safe environment. For example, they might learn how to build a fort, or balance on a log. These activities can help children to develop their confidence and self-esteem.
Natural environment appreciation
Being outside helps children learn more about the natural environment. When they spend time engaging with nature, they'll often develop a greater appreciation for the world around them. They might start to notice different types of animals and plants, learn about the elements(wind, sun, rain, snow) or they might become more interested in the changing seasons. Getting children playing outside is also a great way to help them to better understand the importance of taking care of the environment. It's never too early to start instilling eco-friendly values and begin fostering a love of nature in your child. When children are outside they are producing ample vitamin D which helps with sleep and stabilizers their mood.
Development of motor skills
Playing outdoors gives children the chance to use their muscles, which helps with the development of gross motor skills. Running, climbing, jumping, and other physical activity helps to improve coordination, balance, dexterity, agility,  and strength. These are important skills for children to have, not just for sports and other physical activities, but for everyday life as well.
One of the major benefits of outdoor play is that it helps to keep children active and fit. With childhood obesity rates on the rise, it's more crucial than ever to make sure that kids are getting enough exercise. Playing outside is a great way for kids to burn off energy, and it can also help to improve their overall health and fitness levels. Children will learn to establish a positive relationship with physical activity which sets them up for a healthy attitude towards maintaining an active lifestyle into adulthood. This could be something as simple as kicking a ball around the yard or going for a walk with the family dog. The important thing is to get moving and show children that exercise can be fun.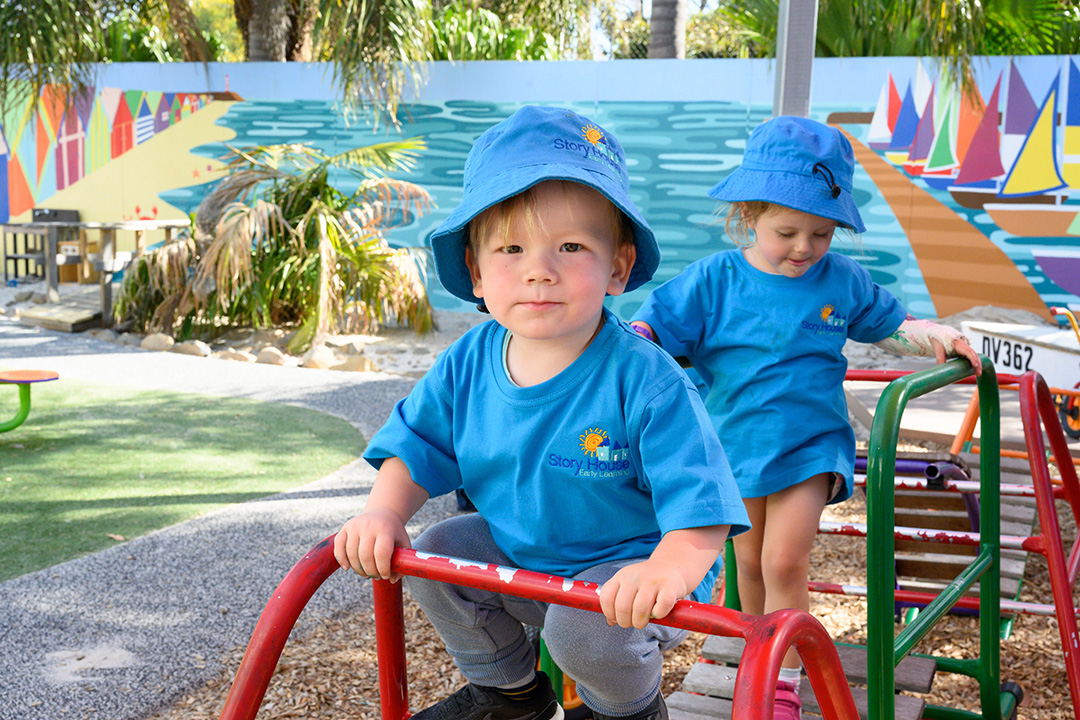 Children outdoor activities
Now that we've covered some of the benefits of children playing outside, let's take a look at some outdoor play activities to encourage children to enjoy the great outdoors.
Scavenger hunts can be a lot of fun for kids. Hide small toys or their favourite snacks around your outdoor space for them to find, or set up an elaborate treasure hunt with clues leading to the final prize. A scavenger hunt is a brilliant way to encourage children to explore their surroundings.
Many children love to run about and get their energy out, so why not organise a small obstacle course with them to complete at the same time? This could include balancing on a log, climbing over a small wall or fence, jumping in puddles and much more. An obstacle course is fantastic for inspiring children to do more physical activity. Just be sure to keep it safe and age-appropriate.
Get a playset for the backyard to encourage children to play outside more often. They can explore, climb and slide to their heart's content, and you can be safe in the knowledge that they're close by. Don't have the space for outdoor play equipment? No problem – simply head to your local park or playground instead for exciting outdoor play spaces.
Skipping and hula hooping are two classic childhood activities that are great for children of all ages. They're not only fun, but they're also great for improving coordination and fitness levels. Encourage your child to play skipping games with friends or other children within the neighbourhood, or have a hula hooping competition to see who can keep going the longest.
Let children get creative with nature when out and about to encourage an appreciation for the natural world. Collect leaves, flowers, twigs and stones on a nature walk, then use them to create collages or paintings back at home. You could paint rocks, press and preserve flowers, or make a leafy mobile – the sky's the limit. These are great activities for rainy days too.
Water play can be great fun for children, and it's a perfect activity to do on a hot day. Set up a small paddling pool and let them cool off, or attach a hose to a sprinkler for them to run through.. Just be sure to keep an eye on them while there's a body of water about. This is a good example of unstructured outdoor play. Remember to always supervise around water.
Playing with mud can be a stimulating activity for children. They can bring their cars and add natural objects to support their play.. Add buckets for making mud pies, or use old kitchen utensils for moulding and shaping and playing pretend. This is a great activity for encouraging free play and world-building. Keep a hose on hand for a post-play clean-up!
Grab some chalk and designate a space for children to start drawing on the concrete. If you have a driveway or concrete garage, this is the perfect spot. They can draw hopscotch games, create self portraits, or just go wild with colour. Chalk is great for encouraging children to be creative. Involve an element of playing pretend by setting up a shopfront or a castle and letting their imaginations run wild. You could even turn it into a learning opportunity by teaching them to write their name or simple words.
There are so many fun games that can be enjoyed outdoors. Classic favourites include cricket, tag, frisbee and football. If you have the space, you could even set up a small net for badminton or volleyball. Many children love to play games so it's all about finding what your child enjoys the most. These games are fantastic for encouraging children to be active, and they can be enjoyed by the whole family.
Children can help with many gardening tasks. From watering flowers to planting veggies, there are plenty of ways for them to get involved. Gardening is a great activity for children as it teaches them about nature and where food comes from. As they get older, you can slowly increase their responsibilities to include more in-depth tasks.
There you have it, some of the benefits of outdoor play as well as some fun ideas to encourage children to enjoy the great outdoors. With so many benefits, it's definitely worth making the effort to get children playing outside more often.
From developing their independence to improving their fitness, there are countless reasons to encourage outdoor play. With so many fun activities to choose from, there's sure to be something to suit every child.
So get your kids outside to play as often as you can! They'll have a blast while reaping all sorts of benefits. You could even get outside with them and treat it as an educational or fun bonding experience.